You can help us address poverty by training teachers.
In cooperation with government, we target
the teachers of schools in remote areas,
focusing on the Myagdi District of Western Nepal.

Quality Education Nepal is a project of Rotary Australia World Community Service. We established LEARN as an NGO
in Nepal to train teachers and foster better education in schools. Funding from numerous sources including Rotary International (Foundation Global Grants) has helped us to reach an ever-increasing number of teachers.
As a Public Benefit Institution, donations are tax-deductible by Australian taxpayers.
Progress to June 2021

We commenced teacher training in Myagdi District of Western Nepal in 2011 (Nepali year 2068). We are pleased to report progress in student Learning Achievement scores of primary students in that first cluster of Ghara schools.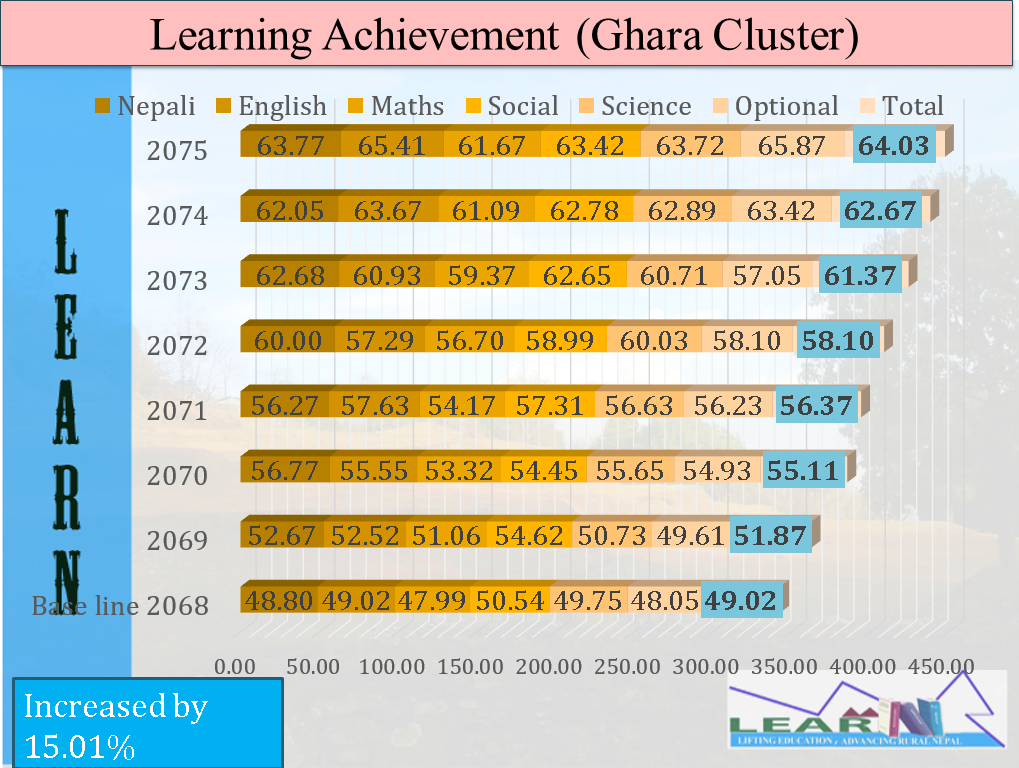 Needless to say LEARN training has not been the only contributing factor, but more than 30% improvement over seven years has been remarkable.
Training activities have been in abeyance during the pandemic, Just as it appeared we would soon be able to resume, the incidence of cases increased dramatically as Nepalis working in India returned home. Resumption has thus been delayed.
Please read our Newsletter No. 9 for more detail (or download it as a pdf).
Rotarians whose clubs offered sponsorship to Global Grant applications that were rejected by The Rotary Foundation are urged to read Rotary rejection (or download it as a pdf), as are TRF staff and trustees involved in that rejection.
To make a tax deductible donation, please do so to Quality Education Nepal Inc., BSB 633000, a/c 161108436 or go to How to donate for more detail.
Note to Firefox users: If you get no response to clicking for a download it may have gone to your Downloads folder. You can change this in Firefox by: 1. Clicking the Firefox Menu icon (3 bars, top right); 2. Choosing Settings; 3. Scrolling down to Downloads in the General section; 4.Browsing for your target folder, or checking "Always ask you where to save file"
Annual General Meeting
Our AGM will be held in Trentham at 4:00pm on November 29, 2020. Notice of meeting can be downloaded HERE. Members and visitors are invited to attend in person (subject to Covid restrictions) or via Zoom. Please email pjthall@nepalaid.org.au if you wish to do so.
Please read the President's report for an outline of our recent activities.
Status update
With training interrupted due to Covid lockdowns, we are busy preparing for a resumption as soon as possible. Meanwhile we're making use of the opportunity to improve our capabilities. This has included the development of a new three-year plan for approval by the Social Welfare Council and relevant Municipalities.
We are also progressing major enhancements to our accounting system. Not only will we have a detailed three-year budget, but for the first time will have a system capable of comparing actual expenditures with budget. This will be important as we foresee sharing program costs with Municipal Councils.
We remain dismayed by the attitude of The Rotary Foundation to our programs, and more so by their audit procedures which led them to pressing the Host Sponsor of our one successful Global Grant project to deny their legal obligations.
We have yet to progress our submission to TRF as described below, as we give priority to moving forward. However, we will return to it and to writing a book about the evolution of our work in Nepal since 1993.
New submission to the Trustees of The Rotary Foundation
Our disappointment in Rotary arising from our failure to attract funding from The Rotary Foundation has been compounded by a bad experience with a random audit of our first and only Global Grant project, 1525855 Teacher Training, Tatopani, Nepal - a three year project that reached a satisfactory conclusion on 31 March.
The auditor reached favourable conclusions:
"After reviewing the audit report, The Rotary Foundation (TRF) was pleased to note the following:
■ An effective community assessment was conducted by the cooperating organization, "LEARN". In addition, they also carried out appropriate teachers training in remote areas.
■ The beneficiary teachers were satisfied with the training/learning"
"I congratulate all the concerned for correctly assessing the need of the society and completing the project as envisaged in the grant."
"this project was well implemented and managed efficiently by the cooperating organization, LEARN"
On the other hand he criticised the financial management of the project, maintaining that it was not a fixed price contract as specified in the MoU between LEARN and the sponsor clubs, but a cost reimbursement contract in accordance with normal Global Grant practice. Moreover, they claimed a refund from LEARN based upon incomplete costing data that LEARN had supplied. The net result was a shortfall in payments due to LEARN of US$ 4,600 which QEN has had to cover.
This outcome was reached against the advice of Sponsorship Manager of the International Sponsor club. He had not been invited to participate in the audit in any way, and when he submitted a lengthy letter of protest to its conclusions, his letter was ignored.
Rather than seeking redress in the courts, we have concluded that a joint submission to the Trustees is in order. This will appeal for an independent review of Global Grant processes. I invite you to download a draft of that submission.
I appeal to Rotarians with any thoughts on this matter to email me at pjthall@nepalaid.org.au. We would be glad of further evidence of adverse experience with Foundation global grants that might justify such a review.
For elaborate details of our audit experience, please download my response to TRF.
Moving forward
Our pursuit of a change in the Rules for Rotary Global Grants to enable project propositions developed by QEN has ended in failure. Despite International and Host Sponsor clubs havig signed an MoU to accept full responsibility, that was not good enogh for the Foundation. This was confirmed in email correspondence with five trustees including four Past RI Presidents. Giving the impression they had not even read the submission, it was a very unimpressive response!
That will not stop our progress in delivering much-needed teacher training in Myagdi District. Training has stopped for the present due to the pandemic, but the team are working hard developing programs and making other preparations for returning to a new normal.
An importand development has been the joint-funding proposal agreed with the Rakhugunga Rural Municipality as described below. We expect that to be a precedent for other Municipal Councils.
Another promising step has been correspondence from the Rotary Club of Calgary. One of the oldest clubs in the world, chartered 1914 and with around 220 members, they have progressed from the Foundation's limit of ten concurrent Global Grant projects, and have now indicated interest in the possibility of initiating a teacher training project in the manner we had proposed. Coming directly from a sponsor club, this should overcome the TRF objections.
We therefore look foward with confidence to our impact on the quality of teaching in Nepal continuing to grow.
Completion of Rotary Global Grant project 1525855 - Teacher Training Tatopani
We are pleased to report the satisfactory completion of the three-year project to train 75 teachers of the Tatopani cluster of schools in Myagdi District. Please click here to download the Impact Assessment report.
This project has set a great example of what can be done to improve the quality of education for pupils in remote areas of Nepal, if the funding can be achieved to extend LEARN training programs to more teachers. LEARN is now working actively with Rural Municipalites in Myagdi District to achieve just that.
Despite our setbacks with The Rotary Foundatiion, we are hopeful that we will be able to persuade them of the importance of applying Rotary funding to such an important cause.
LEARN in Lockdown
Along with much of the rest of the world, LEARN has gone into lockdown, with training suspended and staff working at home. While it is a shame to see our training delayed, it is not a bad thing for us as it gives us an opportunity to consolidate management and to make preparations for an even better future.
Our negotiations with The Rotary Foundation regarding Global Grant funding were set back by the cancellation of all meetings of the Trustees, but it has left us in email contact with five Trustees, all Past Presidents of Rotary International. We are hoping that even in the absence of Trustee meetings they may be able to help us get back on track towards much-needed funding.
Meanwhile we continue to receive private donations, for which we are most grateful.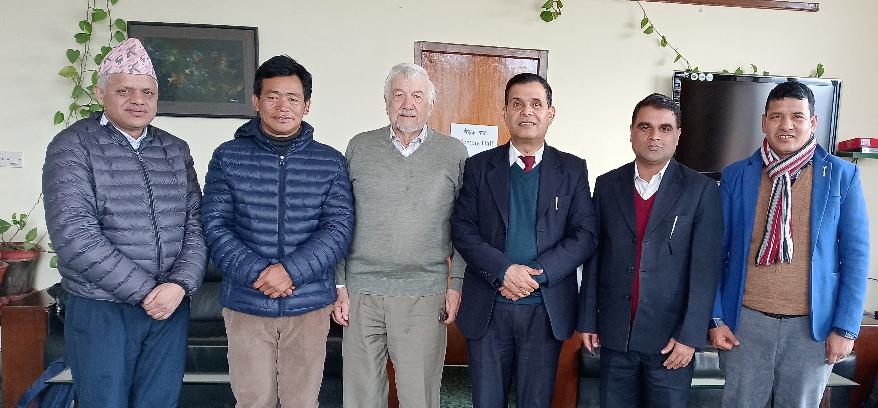 Meeting with the Director General, Council for Education and Human Resource Development, 26/2/20
From left: Section Office Ram Chandra Sharma; LEARN CEO Krishna Pun; QEN President Peter Hall;
DG Turashi Prasad Thapaliya; Director Ghan Shyam Arayal; LEARN Program Manager Meen Shahi
DG Turashi gave his endorsement to the extensiion of LEARN teacher training programs to more teachers,
building on the foundation being established in Myagdi District.
Funding Support from Nepalese Government
Exciting news! An MoU has been signed between LEARN and the Rakhugunga Rural Municipality for QEN and the municipality to share the costs of a three-year program of training for 80 teachers of the Rakhu cluster of sixteen schools (a project that we had hoped would be funded by The Rotary Foundation but which they rejected - see below).
Whereas government schools were formerly funded via district offices of the Department of Education, they now fall under the local municipal administration. Our collaboration with the municipalityhas the personal endorsement of Dr. Tuibashi Prasad Thapaliya, Director General of the Center for Education and Human Resource Development (CEHRD) which has now replaced the Department of Education.
This is the first time our work has received funding from government in Nepal. We now expect other programs to be financed in this way, in both Rakhugunga and neighbouring municipalities. This will enable us to extend training to a growing number of teachers.
Submission to The Rotary Foundation

Last year, an application to The Rotary Foundation for a US$122,000 project to extend training to a further 80 teachers of Rakhugunga Municipality was rejected. It had failed the Global Grant funding guidelines.
Foundation Director of Grants Abby McNear has put it this way: "The overarching point we keep making is that global grants are to fund projects initiated and controlled by the Rotary clubs that sponsor them. Unfortunately, the application we declined gave every indication of the clubs simply seeking funding for another (Rotary) organization's work. Our concerns are amplified by the fact that the clubs have not sought an appeal of our decision, yet you continue to do so. And as we have explained before, only the sponsor clubs may appeal, not the organizations with whom they wish to work."
We had made every effort to comply with the Global Grant guidelines, including securing the commitments of clubs in Canada and Nepal to take project management responsibilities as International and Host Sponsors respectively, confirmed by signed MoU. The Foundation has chosen to conclude that this transfer of responsibilities is not genuine.
Is this the way you would expect the Foundation to respond, given their responsibilities for sound investment of the funds in their care?
We would very much appreciate your input on this matter, especially if you are a Rotarian.
We have drafted a submission to the Foundation Trustees. This can be downloaded from HERE as a .pdf, or HERE as a Word document that you can edit with comments and return to us. We would very much appreciate your input on this matter, especially if you are a Rotarian.
Meantime,QEN has responded to the rejection by diverting other funding to allow the project to proceed in accordance with commitments made to the recipient commuity.
This means that without the further support of Rotary, our need for funds is even greater. If you can respond to this need, your contribution would be very much appreciated. Click HERE to go to our Donations page.
Newsletter No. 8
For an overview of our teacher training programs as they stand we refer you to our latest Newsletter which can also be downloaded as a link from the Newsletter page.
To The Rotary Foundation
So we don't do adequate community assessments?
(see article below)
What better assessment could there be than the scoring of teachers completing our courses?
Those at right are the courses funded by Rotary Foundation Global Grant Project 1525855.
What more could you want?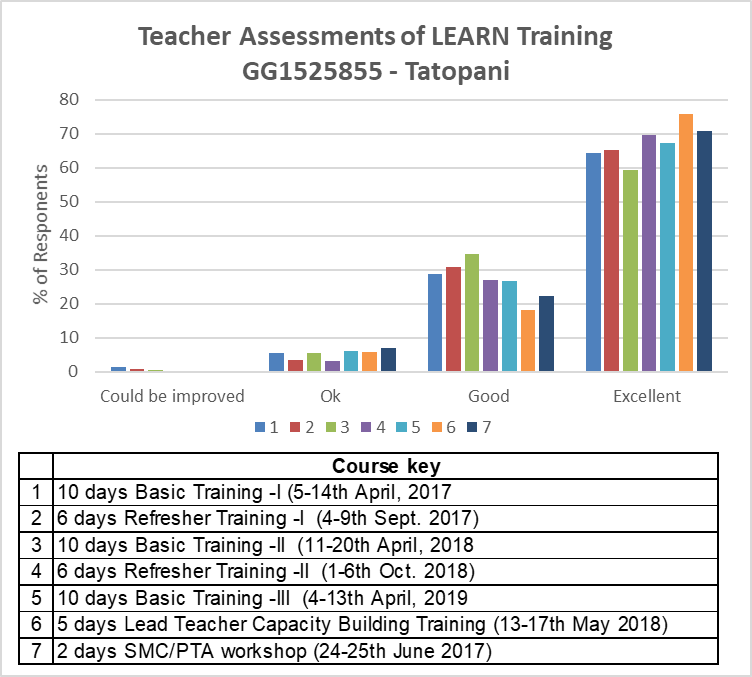 A Challenge from The Rotary Foundation
Since Nov. 2018 we have put enormous effort into attracting Rotary support for extending our teacher training in Nepal. The response from Rotary clubs around the world has been extremely gratifying, yielding sufficient funding for not one but two Global Grant projects, total value US$250,000, to train 160 teachers over three years.
Application GG1876442 Teacher training, Rakhu, Nepal was submitted June 26. The project had been fully funded by 13 Canadian clubs matched with DDF at 85c/$, both matched $/$ by the Government of Canada, and then by the Foundatioin Global Fund. Our intention was to await its approval, then submit the application GG11987661 Teacher training, Arman-Baranja, Nepal to be funded by 46 clubs in seven countries.
International Sponsor Club Woodstock-Oxford, D7080, Ontario, Canada has been advised by The Rotary Foundation that the GG1876442 application has been rejected, the grounds being:
the application was not planned based on a community assessment. Clubs or districts that apply for a global grant to support a humanitarian project or a vocational training team must conduct a community assessment first and include the results in their grant application.

Global grants cannot fund activities primarily carried out by an organization other Rotary.

Additionally, it is concerning that a previous project with LEARN has had difficulty in providing the financial documentation necessary to meet the Foundation's reporting requirements.
We respond to these points as follows:
1. The issue should be whether there is demonstrated local support for the project - not whether a community assessment has been conducted in accordance with TRF guidelines. We have the strongest local support imaginable, from local teacher level to Municipal Council Chairs and the Vice-Chair of the Social Welfare Council.
2. TRF Grants are given to educating people across the world in universities that are not Rotary organisations. This project is no different. The same objection was raised with respect to GG1525855, but it was then approved.
3. To condemn a project for the failings of a Host Country Rotary Club that is not involved does not pass the Four Way Test. That club was replaced by a much more reliable club for the GG1876442 application.
We will not let the matter rest with the TRF rejection, but will pursue it to the highest levels within Rotary.
Please click HERE to download a submission to the Trustees of The Rotary Foundation.
Meanwhile I ask that all clubs and districts that have so generously offered support to our initiatives to be patient, awaiting the outcome that the teachers and school children of Nepal deserve. Please refer to our Rotary Global Grants page for further details.

Peter Hall, President, Quality Education Nepal Inc. (27 July 2019)

Addition to our Capital Fund
Thanks to a contribution from an anonymous donor, our Capital Fund has received a large injection, giving us income security to support and develop LEARN, our teacher-training NGO in Nepal. This gives us the capacity to extend our services beyond basic teacher training programs sponsored by Rotary International (though that remains our primary strategy for extending our reach to more and more teachers. An example is the ongoing annual refresher training that we believe all techers who enter our programs deserve.
Can you contribute?
Recent success in attracting funding from Rotary International for Global Grant projects to extend our training to more teachers is increasing the need for additional funding to provide ongoing annual refresher training. This lies outside the scope of Rotary funding, despite it importance for keeping teachers up to date and highly motivated, so we invite you to assist.
Should you be in a position to contribute, please go to our donations page or simply transfer funds to Quality Education Nepal Inc., BSB 633-000, a/c 161108436, giving your surname as reference.

Where the money goes
The graph at right shows the breakdown of expenditure for the forthcoming GG1876442 project for teachers of Rakhu schools.
Total expenditure equates to US$25 per trainee day. Excluding School materials which are passed to schools for subsequent use, the cost is just US$19 per trainee day.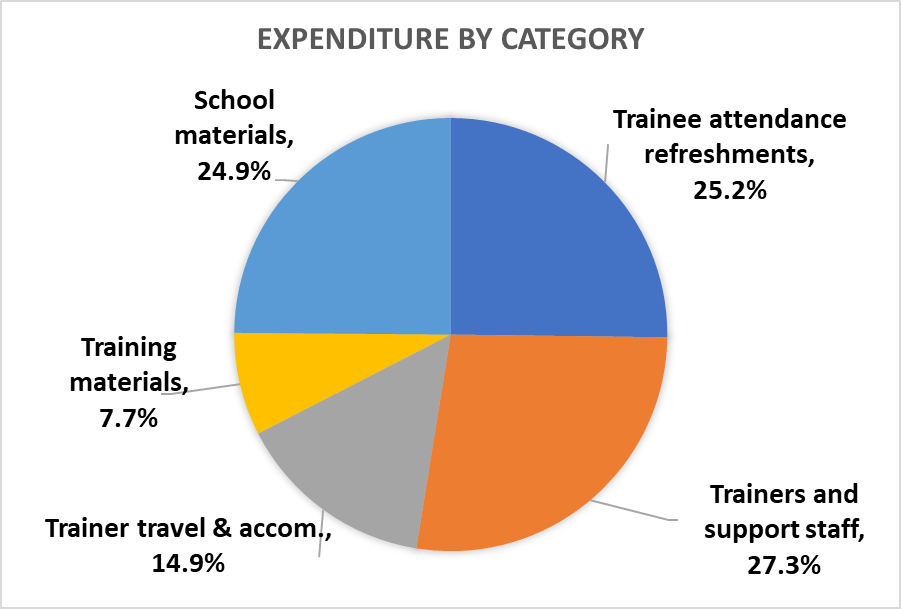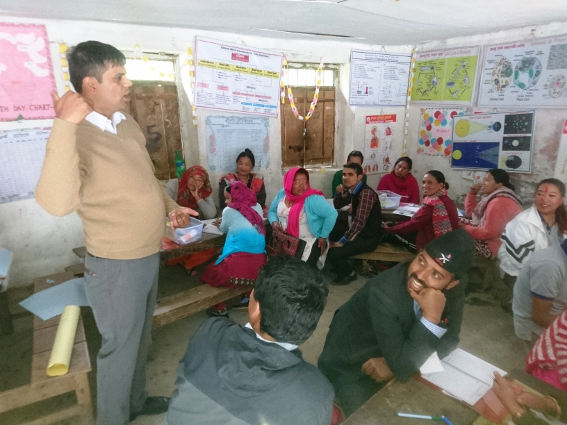 Gordon returns
QEN Director Gordon Nightingale and his friend Lindsay Clark have just returned from a visit to Nepal. Gordon was able to observe the many changes that have taken place since his visit as a QEN volunteer in 2014.
They visited a training program in Chimkhola, and also Paudwar village where our training programs began in 2011.

Rotary Clubs - Foundation Global Grant Sponsorships
We have adopted Rotary Foundation Global Grant projects as the primary way of extending training to more teachers. Our first GG project, to give 75 teachers of Tatopani schools 50 days training over three years, commenced in April 2017 and is going well.

An application for GG1876442 Teacher Training, Rakhu is currently locked awaiting authorisations and approval by The Rotary Foundation. It will train another 80 teachers.
85% of the funding for a third Global Grant project to train teachers of the neighbouring Mangala area is now in hand, and we expect that application to be submitted in August.
For more details and to see how your club might contribute, please go to our Rotary Global Grants page.

Recent visit to Nepal
Peter and Ronda Hall visited Nepal in November-December to progress the planning of this project and the administration of LEARN generally.
Another purpose of the visit was to welcome a party of trekkers from Braemar College, Victoria, Australia to Paudwar village. The twelve students were celebrating the end of their Year 12 studies. They received a very warm welcome from the village.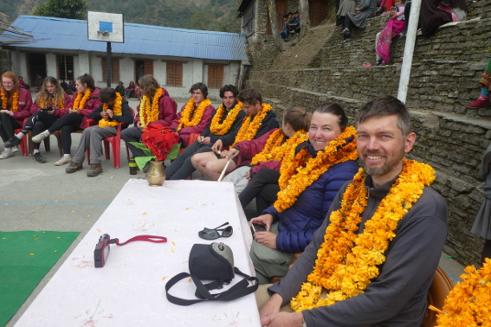 Annual General Meeting
The Eighth Annual General Meeting of Quality Education Nepal Incorporated was held at 29 Blue Mount Road Trentham, Victoria on Sunday the 11th day of November 2018 at 4:00pm. Formal Notice of Meeting (including the Annual Financial Report) is to be found on the Association page, and can be accessed here. The meeting was accessible by Conference Call as advised in the Notice of Meeting.


Australian Aid Friendship Grants
The Australian Government has recently announced program of Friendship grants of up to AU$60,000. We believe we are well positioned to gain such a grant. Not only will it help us in the short term, it will also pave the way for a subsequent application for accreditation with DFAT. At a base level this will yield $150,000 per annum for five years, though it will take a considerable amount of work on our part to qualify.
The current round of grants will be particularly helpful, as we have been under pressure from the Nepalese government to direct more of our aid to "hardware" - such things as buildings and furniture, teachers salaries and scholarships rather than teacher training. We remain firmly committed to teacher training as our first priority, but these funds should allow us to provide science equipment, musical instruments, child-friendly furniture, and model classrooms to show just what can be done.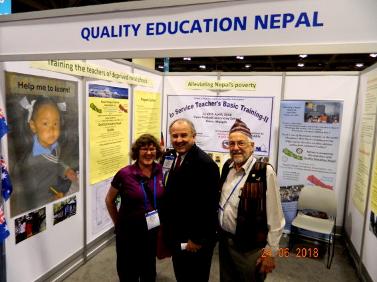 Rotary International Convention, Toronto

We attracted considerable interest at our booth in the House of Friendship at the Rotary International 2018 Annual Convention in Toronto Canada June 23-27. Attended by some 25,000 Rotarians, the Convention had great speakers including Princess Ann, Laura Bush, Helen Clark, Pierre Trudeau, the President of Haiti and the heads of WHO and Unicef. However, my top marks for an inspirational speaker went to Xavier Ramey, 7th generation Afro-American but the first of his family to be born into nominal equality, while still leaving a lot to be achieved. His theme was turning possibilities into probabilities.
Photo:
with PRIP (13-14) Ron Burton and RC Kyneton PP Gaeleen Warcup

Invitation to Rotarians
Can your club contribute to a further Foundation Global Grant project that will allow us to extend our training to further 70-80 teachers? We have expressions of interest by many clubs, but now we need to convert these into sponsorshipcommitments to support an application to The Rotary Foundation. Could your club be one?
Please email peter@nepalaid.org.au if there is a possibility. Sponsorships can range from just one or two hundred dollars upwards, and can be paid up front or spread over three years.
Invitation to all
June 30 has passed, and we have had good response to our appeal for funds. However, the needs continue, and we would much appreciate whatever you can contribute. Note that Quality Education Nepal Inc. is a Public Benevolent Institution, allowing it to issue donation receipts allowing Australian tax deductions.
Your contribution will support the growth of LEARN, allowing us to provide ongoing annual refresher training after teachers have completed their three-year basic program which may have been funded by Rotary.
Rotary District 0550 Annual Conference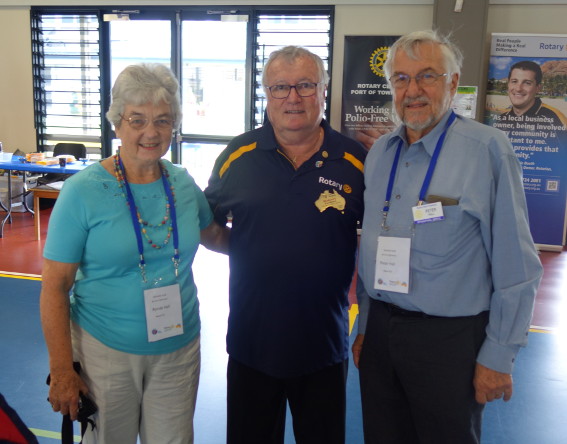 Rotary District 9550 encompasses North Queensland, the Northern Territory and Timor Leste. Peter Hall was invited to speak ai their Annual Conference in Ingham on May 6. He was in good company, the other speakers on the program being:
* PDG Eric Wood, Regional Rotary Foundation Coordinator; Director, Ausralian Rotary Foundation Trust 2016-19
* PDG Greg Ross, Australian Rotary Health National Chair
* Robert Fels, recipient of Rotary's "Outstanding Service Award" for his promotion of peae initiatives over 30 years
* Stephanie Woolard, Rotary Peace Fellow and recipient of the international Rotary Responsible Business Award for her establishment of the Seven Women project in Nepal.
Click here to download Peter's presentation.
Ronda and Peter with DG Robert Tatiani
Important meetings in Kathmandu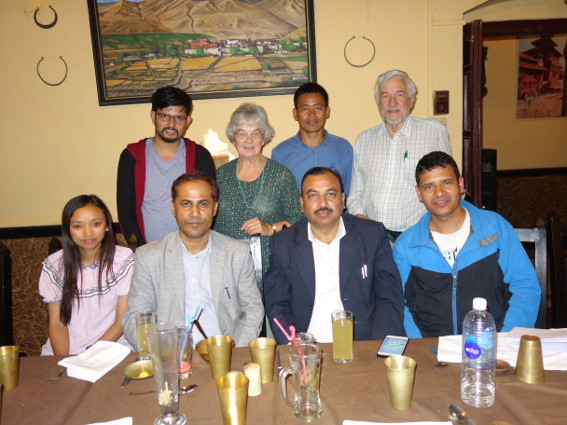 After returning to Kathmandu from the Closing Ceremony in Dana we had a busy week, in which time we achieved a number of important meetings. They included:
* the Australian Ambassador Peter Budd
* District Rotary Foundation Chair Rajendra Rajbhandari
* Rotary District Governor Elect Chintamani Bhattarai
* Rotary District Governor Nominee Kiran Lal Shrestha
* Rotary District Governor Designate Rajid Pokhrel
* Social Welfare Council Vise-Chairperson Nilmani Baral with
* SWC Deputy Director, Planning & Prog Approval Ram Raja Bhattarai
These meetings have engendered support for our training programs in general, and for further Rotary Foundation Global Grant projects in particular. The latter will facilitate the extension of our programs to more and more teachers.
We were pleased to be able to entertain the latter at dinner at Nepali Chulo Restaurant together with all four LEARN staff.
Closing Ceremony, 10-day Training Course, Dana (April 2018)
The Closing Ceremony of the second 10-day training program for teachers of Tatopni Resource Centre was celebrated in Dana in the Kali Gandaki valley on April 20. The program, extending over three years, is funded by a Rotary Foundation Global Grant supported by the sponsorship of eight Australian Rotary clubs, three Rotary Districts and eight Nepali clubs.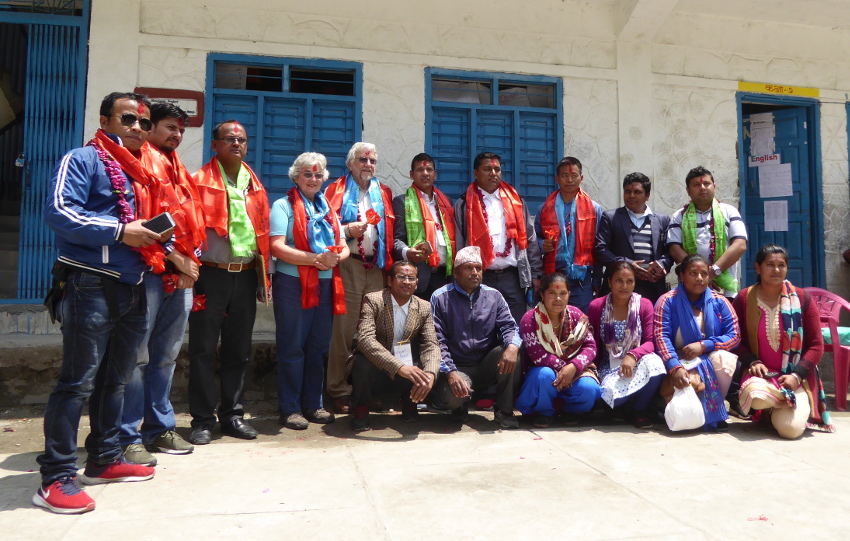 Yam Bahadur Gurung, music and dance trainer; LEARN Training Officer Gopal Dhungel; District Education Officer Ram Kumar Shrestha; Ronda Hall; Peter Hall; Meen Shahi, LEARN Program Manager; Mr. Jayaram Subedi, Resource Person of District Education Office; Krishna Pun, CEO of LEARN; Shanta Bahadur Nepali, Head Teacher of Gyan Prakash Secondary School; Achyut Dahal, Chief Administrative Officer of Annapurna Rural Municipality .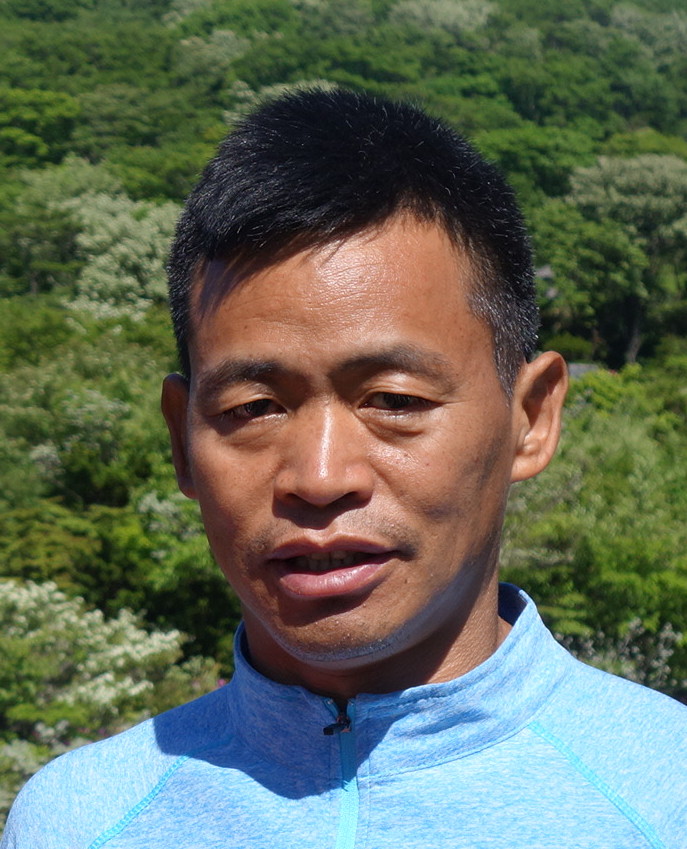 LEARN staff appointments
CEO Krishna Pun has been joined by Meen Shahi as Program Director and Gopal Dhungel as Chief Training Officer. Both are experienced teacher trainers with Masters degrees. They enhance our capability to extend training to more and more teachers.
Krishna Pun Meen Shahi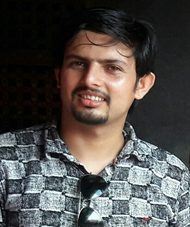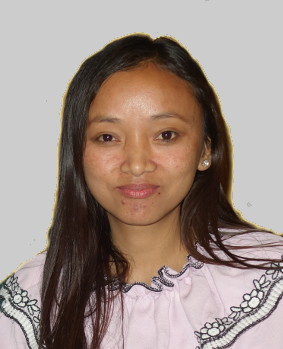 Gopal Dhungel Urmila Shreesh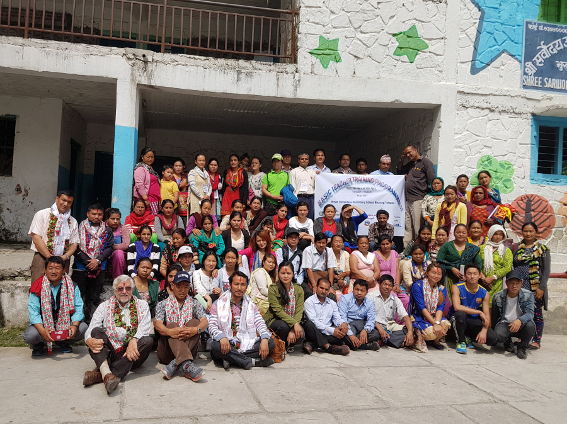 Closing Ceremony, 10 day Basic Training, 18 April 2017

(Rotary Foundation Global Grant funded)

Continuing service delivery

Since the initial 10-day Rotary-funded training program at Tatopani in April 2017, LEARN has continued to deliver training, including in-school support and refresher training for the 150 teachers who have completed their 3-year basic training.
The start of a new 3-year program for Phakapani Resource Centre this year will raise the number of teachers in training to 300.
April 2018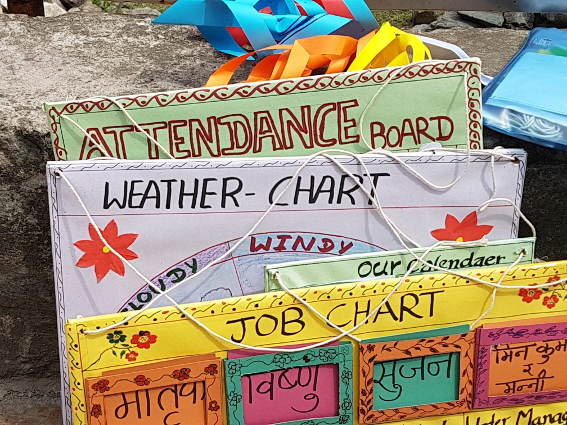 Teaching aids produced in training
Timetable of courses delivered and scheduled