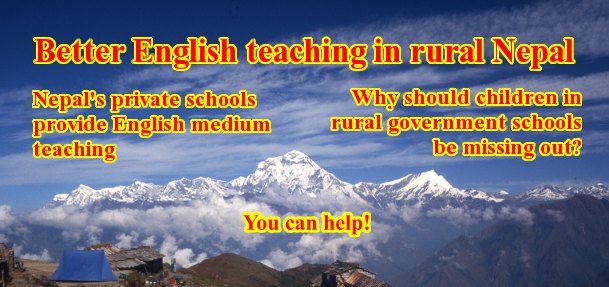 Program outline:
• To obtain the education Krishna Pun (former head master of Paudwar School in Myagdi District) desired for his children he had to send them to boarding school in Kathmandu. A key aspect of this better education is English medium teaching – teaching general subjects in English rather than Nepali)
• Krishna could not see why other children of Paudwar village should be denied this opportunity. He dreamed of starting English medium teaching at his former school. With no precedent for this in government schools, it could only be achieved if funding could be raised privately
• Supporters in Australia gave the assistance needed. English medium teaching started at Paudwar in July 2008 and at Gibung Primary School (a feeder school to Paudwar Secondary) in July 2009. Plans are in place to extend the program to Kindu Primary (another Paudwar feeder school) in 2011
• The program will be extended to other schools if and when funding permits. In doing so it will be setting a precedent for government schools throughout rural Nepal.
• The program is supported by Western visitors reading English books with the children
Why its needed:
• Nepal, a country of 28m. People, is home to 70 independent languages. To achieve cohesion, a common Nepali language has been adopted officially. Taught in all schools, it is progressively replacing local languages and dialects
• As a country with a largely subsistence economy, Nepal is heavily dependent upon tourism and other interactions with the world at large. The teaching of English as a second language considerably enhances the prospects of students to whom it is available.
• The number of Nepali teachers fluent in English is limited. Learning English from a non-English speaker is difficult! By extending the use of the language – using it while learning other subjects – this difficulty can be reduced.
How to help: A gift of $100 will pay a teacher for a month! Click here to donate.