Welcome to 2017 - our year of growth


2016 was a year of consolidation. Dwarika Amgain joined us as Chief Training Officer of LEARN, soon to take over from Krishna Pun as CEO. Krishna will remain with us as Executive Director. Together with President Dr Umed Pun they make a very powerful leadership team.
The year saw the completion of three-year training programmes for teachers of Ghara VDC and Rima Resource Centre. An application to The Rotary Foundation for a Global Grant to extend our training to teachers of Tatopani Resource Centre over the next three years is in the pipeline, expecting to commence in April.
We changed the name of our project and our Association to Quality Education Nepal. The Board of Directors is looking to funding opportunities to extend our programmes even further. We see 2017 as the start of a period of rapid growth, with the first of a succession of new projects increasing the number of teachers in training.

Christmas Message 2016

Christmas and New Year greetings to all our friends in Australia, Nepal and elsewhere in the world.
We are in Kathmandu, returning home on Christmas day. Our trip is going very well. On our way we stopped in Bangkok to lunch with Rotary International Director Saowalak Rattanavich. Saowalak is Professor of Education at Srinakharinwirot University in Bangkok, with a particular focus on literacy. In conjunction with Australian Rotarian Richard Walker she developed the "Concentrated Language Encounter Approach" to teaching literacy which has been adopted nationally in Thailand. She is keen to foster the spread of this approach throughout South-East Asia, with the assistance of Global Grant projects. We can see much scope for collaboration with her. Despite her intensive workload as RI Director (until June 30), Saowalak has agreed to serve as Educational Consultant to LEARN.
We spent three days in Pokhara where we attended the meetings of three Rotary clubs. All are very supportive of our initiative, confirming their sponsorship of US$100 to our Global Grant project. We are indebted to KB Shahi as Project Manager for the Primary Host Sponsor club of Baglung for his coordination of Nepalese Rotary support. Likewise we must thank Kym Stock as Project Manager for the Primary International Sponsor club of Portland. Kym has revised the application documentation, and yesterday initiated the re-authorisation process. LEARN has obtained the necessary approvals of the Myagdi District Development Committee and the Social Welfare Council to allow the first 10-day training course to be delivered in April, subject to TRF's funding approval.
Back in Kathmandu we have been working with Krishna Pun and Dwarika Amgain to plan the development of LEARN. Dwarika joined us in April as Chief Training Officer on the understanding that he would in due course replace Krishna as CEO. Krishna would remain with us as Executive Director. We expect this transition to be confirmed by the LEARN Board next month.
Krishna and Dwarika make a formidable pair to take LEARN forward. We have agreed targets for the nest three years which would see the number of teachers in training rise from 150 at present to close to 1,000. This will not be easy, but it is a welcome challenge for both LEARN and QEN.
We wish you the best, and look forward to bringing you further news in the new year of our progress.
Best regards
Peter and Ronda Hall
Newsletter No. 6
Read about:
our presence at the Rotary International Convention in Seoul - May 28 - Jun1, 2016,
44,000 people attending.
appointment of Dwarika Nath Amgain as Chief Training Officer of LEARN, and Simon Cowen as Director of NVIA Inc.
new membership rule for NVIA
opportunities to support our activities.


Newsletter No. 5

Great news! Our association (Nepali Village Initiatives Association Inc.) has been designated by the Australian Charities and Not-for-profits Commission as a
Public Benevolent Institution
. This gives us Tax-deductible Gift Recipient status, able to offer tax-deductible receipts directly to donors.
Read about this and more in our latest Newsletter.
Click
to download a pdf.
January visit by Peter Hall and Simon Cowen

Peter Hall visited Kathmandu and Pokhara for a fortnight in January to progress various administrative matters. For the first week he was accompanied by Simon Cowen, who has expressed interest in assisting with the direction and administration of the project. Many thanks, Simon, for your input.
At the NVIA AGM on Nov. 29 a new Board was elected comprising Peter and Ronda Hall, Don Cullen, Michael Dillon, George Hillary and Gordon Nightingale. Read about this and other exciting new developments in our latest Newsletter. Click to at left to read, or here to download a pdf.

Newsletter No. 3

After a couple of brief email updates to members regarding our recent visit to Nepal and the earthquake, its time for a more comprehensive newsletter.
You can view it online in
(the quickest - click at right to read).
Our you can download the .pdf by clicking HERE.
Successful completion of visit to Nepal

On May 8, 2015 our team of nine returned from a quite remarkable trip to Nepal. Great progress was made with the project, including the delivery of a six-day Refresher Training Course for teachers of Rima Resource Centre immediately prior to our arrival, and a second ten-day Basic Training Course for those of Ghara VDC during the course of our visit. We ran holiday activities for children of Ghara and Paudwar villages.
Significant progress was made on the administrative front, with a commitment by the Rotary Club of Pokhara Fishtail to accept the role of Host Sponsor for a prospective Rotary International Global Grant application, and responses by more than 140 applicants to our advertising for the position of Chief Training Officer. We are hopeful that this recruitment process will lead to recruitment not only to that position but also a Senior Trainer and an Administration Manager / Trainer. This will greatly enhance our delivery capability, allowing us to initiate training in new areas.
These events were in a sense eclipsed by the earthquake, but we are glad to say that all associated with the project are safe. We wish Nepal well in its task of recovery from this disaster
No doubt all who read this will have heard of the disastrous earthquake in Nepal. How can we express our feelings for this nation and it people at such a time?
I write this update from the village of Paudwar - not much further from the epicentre of the quake than Kathmandu. We were across the valley in Ghara village when it struck, having just started the opening ceremony for a ten-day teacher training course. We hastily evacuated the building, and after some delay resumed the ceremony out in the open.
Some buildings were damaged, and we felt after shocks for the next couple of days which caused further damage, but fortunately there were no injuries. Communications were disrupted, so it was hard to find out any details - you probably learnt more quickly than we did.
Yesterday we moved on to Paudwar village where we have been very warmly welcomed, and where we will stay nine days before returning to Kathmandu. We are hoping that by then the traffic congestion will have eased, and that we will be able to catch our flight home.
We would like to be able to help the people in this situation, but there is nothing we can do here in Paudwar, where life goes on as normal. If you are wanting to help I can only suggest that you do so through the aid agencies or Rotary projects such as Shelterbox and Disaster Aid.
Peter Hall, April 28th
December visit by Peter and Ronda Hall

Peter and Ronda Hall visited Kathmandu and Pokhara in December after a relaxing fortnight of sight-seeing in Bhutan - a very different country from Nepal.
The purpose of the visit was to address administrative matters, including progress with the training of teachers under Rima Resource Centre funded by a Direct Aid Program grant from the Australian Government. We spent a very pleasant hour with Ambassador Glenn White reviewing progress and looking to future possibilities.
Another important issue was the staffing of LEARN. Since Kailash Tamang moved to a position with the Department of Education, Krishna has been under considerable pressure as a one-man NGO. The Board has agreed to recruit a new Chief Training Officer and a Manager, Administration, aiming to have them in place by end March in time for the further training programs to be run in April.
We were also very pleased to receive strong support from local Rotary Clubs - we look forward to working with them to achieve a Rotary Foundation Global Grant to extend the program to yet more schools during 2015.
The highlight of our trip was to be there during a visit home by Krishna's wife Sita, for just the third time after seven years working in Israel, and preparing to return to Israel for another three years. It was a privilege to be able to stay in their new home in Pokhara and to spend time with Sita, whom we had not seen since 2001!


NVIA Newsletter No. 2

So much has happened this year, we have issued our second newsletter.
You can
view it online
in
(the quickest - click at right to read).
Our you can download the .pdf by clicking HERE.
LEARN ("Lifting Education, Advancing Rural Nepal"), the NGO we established to deliver our teacher training programs into the future, has successfully delivered its first program. 40 teachers of public community schools of Ghara VDC in Myagdi District, Western Nepal, completed their ten-day Basic Training on Friday May 2. They are following in the footsteps of another group of forty teachers from neighbouring Shikha VDC who have now completed three years of training, and who will continue to receive refresher training in the years to come.

With increasing recognition that effective education of its children is the best pathway out of poverty for a country like Nepal, our project is addressing the most needy aspect - the quality of teaching in remote rural schools.
Click
Education
for more details about our programs which we are progressively extending.
We hope to have 150 teachers in training by the end of this year.
Completion of 2013 Training Program; Formation of LEARN
The 2013 training program for schools of the Shikha VDC, Myagdi District was completed with the Refresher Training program that ran 6-11 Dec. This completes the basic three year training program for this group of schools, though they will continue to receive Refresher Training each year.
A Baseline Survey was undertaken in June for schools of the neighboring Ghara DVC, and their first ten-day training program has been scheduled for 23 April to 1 May 2014.

As REED, the training organisation that we have used to date, is fully committed in the Solo Khumbu District as a consequence of extra funding received by the Australian Himalayan Foundation as a consequence of AUSAID accreditation, we find it necessary to establish our own training entity. The NGO LEARN is currently being registered, its aim: "Lifting Education, Advancing Rural Nepal:"

Peter Hall will travel to Nepal in February to facilitate this process. He intends to return in April with a volunteer group, as outlined on the Home page. Please contact us if you would like to join this trip.


Krishna Pun and his children Krishta and Sharad arrived in Australia on 12 Dec. to stay for two months. We sponsor Krishna in his role as Paudwar Village Development Coordinator. The trip will allow him to study practices in Australia of relevance to his village and in particular to the Khayer Barahi Milk Production Cooperative which he established with strong community support three years ago.

Topics of interest include dairy farming, goat husbandry and cheese making, together with matters relevant to villagers offering home-stay trekking (hospitality / hygiene).

Visits are planned to
Geelong, Portland, Maffra, Canberra, Sydney and Tasmania.
Teacher Training Program endorsed
Directors of the Education Department in Kathmandu and the District Education Officer in Beni gave strong endorsement to the Teacher Training program
initiated last year and continuing this year.
The District Education Officer asked if it would
be possible to extend the training to cover
all 1,240 teachers in his district!
This has inspired us to develop

Quality Education Nepal
,
a project to deliver ongoing teacher training and the resources needed to put that training into practice.
Donations tax deductible - see
the Donations page.
Marg leads the children singing "Heads, shoulders, knees and toes -
Eyes and ears and mouth and nose".
Such songs were a great way for children to practice their English
Nepalese Flag Raising Ceremony, Federation Square, 28/6/12
Ronda and Peter Hall were invited by Chandra Yonzon, Honorary Consul General of Nepal to Victoria, to attend a Flag Raising Ceremony in Federation Square. The photo shows Ronda with George Hillary, grandson of Ed, and his sister Amelia between them. Bom Yonzon, President of the Nepalese Association of Victoria, smiles for the camera (does Bom ever stop smiling?).
Speeches followed by His Excellency Mr Rudra Kumar Nepal, Ambassador of Nepal; Sue Gregory, wife of the late George Gregory who supported Ed Hillary in his ascent of Everest; Chin Tan, Chairperson Victorian Multicultural Commissioners and The Hon. Bruce Atkinson MLC, President of the Legislative Council.
We were invited to provide a display about our project at the Flag Raising and at a Nepal Promotion Forum attended by travel agents at the Novotel later in the day.

The Hokey Pokey proved as popular in
Nepal as it has ever been in Australia.

Volunteers visit Paudwar, April 2012
Seven valiant volunteers spent twelve days in Paudwar village in April. They started with a Holiday program in which more than eighty children participated. Then after school resumed they assisted in class activities.
The goal throughout was to give the children practice conversing with native English-speakers. It was rewarding after teaching a new song to walk around next day and hear it resounding through the village.
The visit also gave the opportunity to review other initiatives, in particular English medium teaching and the development of the dairy farm.
Lack of electricity due to load-shedding (up to 12 hours daily) is an ongoing problem in Nepal. To support computer science teaching and the development of the dairy and cheese factory, a 40kW micro-hydro scheme is now envisaged. We were pleased to participate in a survey to determine a possible location.

Deb Lewis used her experience with the Australian Women's Circus to teach the children circus tricks.

Forthcoming visit to Nepal (April-May 2012)
We now have seven volunteers in our group about to set off for Nepal, including four Rotarians (one from Woodend, the rest from Portland). Our group includes: a primary school principal; a teacher specialising in aid to the blind; an art therapist experienced on working with the young and the aged; a retired teacher librarian, two retired nurses. What better group of skills could we have for delivering a holiday programme to children of Paudwar village. They'll range from Preps to Year 10, so we'll be providing a wide range of activities (one volunteer applying her skills from membership of the Women's Circus). The program will run over four days, after which school will resume and we'll be able to help the children in their normal school work, particularly by reading and telling stories in English. And our retired nurses will assist in assessing what can be done to improve health outcomes in the village.

As time and technology permits we'll post reports to this website.

Successful Fundraising
We've had a number of significant additions to our funds in recent weeks:
* Selling cooked organic corn at The Age Harvest Picnic at Hanging Rock on Sunday 26 February, undertaken by the Rotary Clubs of Woodend and Kyneton. With attendance of around 5,000 this gained publicity for the project as well as worthwhile income
* Nepalese Dinner at Gurkhas Restaurant, Carlton on Friday 2nd March. While attendance was down on last year, a good night was had by all, and financial returns almost matched last year's.

* A donation from the Rotary Club of Bendigo Sandhurst to cover the cost of two cows for the Khayer Barahi Milk Production Cooperative Inc.
* A single very generous donation, sufficient to cover the cost of another training course for teachers in Myagdi District.
These contributions give us confidence that we can commit to bigger and better programs of assistance in the years to come.

Completion of 2011 Teacher Training Program (November 2011)
Stage 5 - 6 days Refresher Training - was completed in November, with 46 teachers attending. The 2011 program was administered by the Rotary Club of Woodend with financial support from The Rotary Foundation.

Plans are now in hand to deliver another training program to teachers from the same group of schools in 2012. A very generous donor has promised the funds to allow this to happen, but we are also wishing to fund a full-time trainer for the District to provide continuing in-school support.
You can support this by attending our Cultural Dinner at Gurkhas Restaurant, Lygon St. on Friday May 2, or simply by making a donation here.

Progress by the Cooperative developing the Dairy Farm (October, 2011)

As the following photos show, considerable progress has been made by the Khayar Barahi Milk Production Cooperative Inc. in developing the dairy farm at Paudwar village. The Coop was established by the villagers following our visit in Sept. 2009, led by Krishna Pun in his role as Village Development Coordinator. By funding his salary we have enabled this significant initiative for the prosperity of the village and support of the school.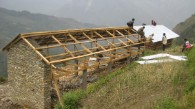 Constructing the cow shed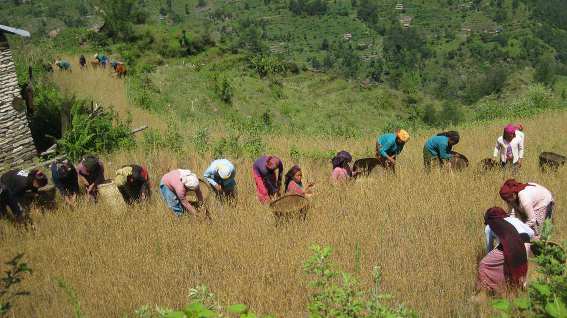 Collecting jai (fodder oats) seed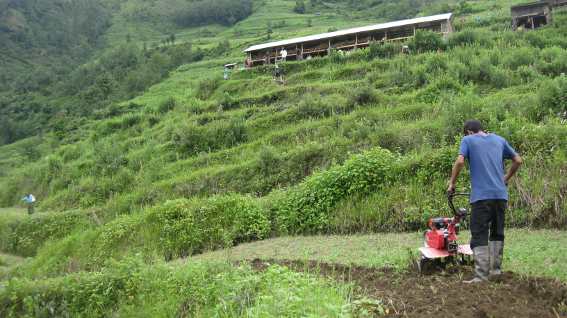 Preparing for grass,
cow shed behind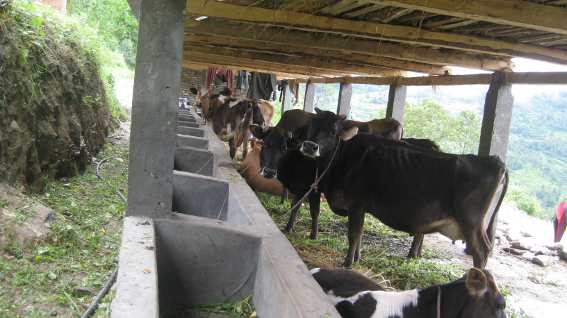 School visits and Teacher Training feedback (August 2011)
Krishna Pun, Development Coordinator for Paudwar Village, and Bhim Boghati of the Rural Education and Environment Development Centre (REED, the deliverers of our teacher training) spent Aug. 22 through Sept. 2 visiting all the schools that participated in our teacher training program in April, observing classes, and meeting with all staff to provide and obtain feedback. Concluding days included a meeting of the Chairs of all six School Management Committees to discuss future strategies, followed by a meeting with the District Education Officer.
We have received a detailed report of this Stage 4 of the Teacher Training, together with many photographs. The review indicated positive benefits from the training and strong support from the school committees. It also identified a number of problems encountered, concluding that we should follow REED's normal practice by providing follow-up training next year. We would like to be able to support this, as well as extending the training to schools in the adjoining Ghar VDC. This will be a challenge financially, but we are working with various Rotary Clubs to gain the needed support. We would also appreciate support and suggestions from our members and anyone who stumbles on this website.

Teacher Training Project update (May 2011)

This is a project of the Rotary Club of Woodend for which we have obtained a matching District grant of $5,000 from the Rotary Foundation. The Nepali Village Initiatives Association Inc. is lending its support. The full $10,000 cost of the project has now been raised.

The Base line survey, School management and parents orientation and Ten days basic course training have all now been completed.
The picture, taken on 3 April 11, shows Krishna Pun addressing the trainees in the staff room of Paudwar Secondary School. The teaching aids hanging from the ceiling are evidence of the programs achievements - classrooms have hitherto been bare except for the slate in the wall used as a blackboard.

News from prior years
Click here for news from
2010
.