News from Nepal (31/10/10)
Karen Stock and her daughter Robin from the Rotary Clubs of Portland Bay and Portland respectively have visited Paudwar. Karen had organised the people of Portland to knit beanies, of which she took more than 100 to Nepal. She was also able to take some WiFi hubs for us for delivery to the Nepal Wireless network. We look forward to Karen and Robin's reports on their return.
Krishna is enthusiastic about the proposed Teacher Training Program - all we have to do now is raise the money. The Rotary Club of Woodend has already made a commitment of support, and we have applied for a matching grant from the Rotary Foundation (District funds). This project will benefit not only Paudwar but other villages in the area including the larger Shika across the valley to the south.

We now have a number of photos of the preparatory work for the dairy farm being established by the Khayar Barahi Milk Production Cooperative. It is inspiring to see what is being achieved - and the number of villagers involved. And to think that this is all a result of Krishna returning to Paudwar as Village Development Coordinator under our sponsorship..
English medium teaching is continuing, with plans to extend it next year to Kindu, another feeder primary school to Paudwar Secondary School.

Further updates from Krishna, 1st and 6th October 2010
The financial report presented to the General Meeting of the Cooperative showed gross income of Nrs1.378m. (AU$19,830), the main components being share purchases by 120 families (Rps 1.15m., AU$16,500) and a Rps 200,000 (AU$2,900) grant from the Village Development Committee. This income does not include Rs106,000 (AU$1,530) from Tasmanian supporters currently held in the School account.
Expenditures amounted to Rps151,700, the most significant items being Rps 68,000 for equipment and materials (primarily a small cultivator - see photo) and Rps 50,000 set aside for insurance. This leaves a balance of Rps 1.226m. (AU$17,600) carried forward for future developments.
An Executive Committee of 15 members has been appointed for 2 years.

English medium teaching continues at Paudwar and Gibung, with plans to start at Kindu another primary feeder school to Paudwar.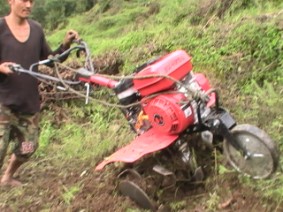 Also in the early stages of planning is a

teacher training program

similar to that supported by the Australian Himalayan Foundation for teachers in the Everest region. The target is to provide 10 days training plus a refresher day for 40 teachers from 6 schools in the District, preceded by a Baseline Survey and supported by a Parents Orientation Program. Total budget Rps 1m. (AU$15,000).

How much of this can we provide

?

The AHF program is outlined here, while the training organisation REED has its own website here.

Update from Krishna - 8th September 2010
Krishna has returned from supervising support for the annual pilgrimage to Khayar Barahi. This has been a source of income for Paudwar village and its school for many years.
The membership drive for the Cooperative has now been completed, achieving subscriptions of Rps 830,000. With the addition of a Rp 215,000 grant from the Village Development Committee, the Cooperative bank account now stands at Rp 1,058,783!
Development work for the dairy farm has stalled due to the monsoon, but will re-commence in autumn. Investigations are continuing into the best energy sources for the cheese factory, with water heater solar panels plus bio gas or LP gas currently being favoured. A more ambitious plan for grid-connected mini-hydro is also being considered.

Tasmanian Quiz Night, 7th August
Long time supporters of Paudwar village, including a number who have gone there as volunteers, gathered their friends for a Quiz Night last Saturday. They raised $1,600! Tony McKenny reports "The consensus was that the money be sent to the School bank account to use at their discretion – which we have done. We have pointed out that our intention, however, was for it to be towards the new project, and we are more than happy if it is included as part of your total to be raised. Hopefully we will have another "do" before too long".
It would be great if other interested people could band together to provide such great support. Well done, Tasmanians!

Some highlights of recent progress - 30/7/10

* Paudwar recently received a grant of Rps 90,000 (AU$1,200) as a boost to the yak programme, making extra work for Krishna and Gam.
* Planting of fodder crops at the farm site has concluded for the season with the onset of the monsoon. The work was made difficult by the hardness of the ground, leading Krishna to seek some mechanical assistance. A ploughing tractor was not feasible, but they managed to secure a small cultivator ("micro tiller") in Pokhara which was transported to Ghar Khola then carried up the hill to the village.
* Villager contributions to the Co-operative have now reached Rps 665,000 (AU$10,000), and former Paudwar people living in Pokhara and Kathmandu are now being approached. The overall goal is Rps 1,000,000.
* Work continues estimating the costs of building the dairy farm and upgrading the cheese factory. As the growing estimates exceed the funds available (even allowing the Rp 200,000 VDC grant and a further 600-700,000 hoped for from the Live Stock Department in Kathmandu), the villagers are thinking to do things "in our very local way". A major challenge will be the power supply, for which the central grid connection is not sufficiently reliable. Micro-hydro from a nearby stream seems an attractive possibility, but it will be necessary to survey the flows through the winter (non-monsoon) season.
* Work on the water supply to Bhal Kharka is 75% complete but has been interrupted by the monsoon and will now have to wait till that is over.

Further Updates - 17/6, 4/6/10
An engineers report for the cheese factory and storeroom has estimated the cost to be Nr 2,900,000 (AU$45,000). A grant of Nr200,000 (AU$3,000) has been received from the Village Development Committee (The VDC is the lowest level of regional administration in Nepal. Each district has several VDCs which are similar to municipalities but with greater public-government interaction and administration. Paudwar comes under the Skiha VDC). A further funding submission is being made to the Government Livestock Office. Fuel will be a major ongoing cost component - electricity would be the easiest but is unreliable so alternatives are being examined including hydro generation.
Krishna, Om and Bal have visited a dairy farm at Chyangling, Gorkha to learn more about farming practices, marketing, etc.. Work is progressing with grass planting, selection of fodder trees, fencing, etc.

News from Krishna - 15/6/10
First news from Krishna for two months - he's been out of email range. Lately he has been spending his time installing a water supply at Bhal Kharka, about two hours trek up from Paudwar village. Its purpose is primarily for the yak breeding program so that the yaks can be brought down to this locality during winter (in summer they're kept higher up around Khopra Ridge). It will also supply water for trekkers. Funding for the project has been obtained from the Nepal Government. It is really pleasing that the Government does support remote villages in such activities. Krishna has been very busy trying to complete the project before the monsoon sets in, as it will make the work much more difficult.
The Milk Cooperative project continues to make progress. Captain Bal Bahadur Pun (a volunteer combat engineer from Pokhara) is now working with Krishna and Om, providing much-needed engineering advice. They have visited a dairy farm near Ghorka to learn the basics - feeding, milking, breeding (AI or bull), shedding, etc. Grass seed has been collected and grass planted, and fences will be installed this season. Meantime Bal Bahadur is developing costings for a dairy comprising office, staff rooms, cowsheds, etc. He has already estimated the cost of a new cheese factory and storeroom to be Nrs.2,900,000 (US$40,000), with the other facilities to come on top of that.
Fuel will be a critical element of the project, both for the dairy and for the enlarged cheese factory. A solar panel, firewood and a small bio-gas heater have all been used in the past, but something better is needed. Electricity would be fine, but the public supply is not sufficiently reliable (load-shedding is frequent throughout Nepal as demand exceeds supply). A possibility being examined is hydro-electricity from a nearby stream.
Estimates of the cost of cows range from Rps.25,000 to 150,000 (AU$ 400-2,400) per cow. The target is to achieve 100 cows, though this will be met partly by breeding on site. On top of the purchase price of cows there will be transport costs - not to mention the difficulty of getting the cows up the steep track to the village (hopefully not too many of them will have to be carried, as has been done in the past).
As the costs of the project mount, Krishna is looking to a diversity of funding sources, including the Government where possible. Application is being made to the Government Livestock Office for funding for the cheese factory. Supporters in Tasmania have shown interest in contributing (they may do so through our Association to gain tax deductibility). The challenge remains for us to contribute a reasonable share. Back on 2nd March, when Krishna advised that villagers had contributed Nrs 400,000 (AU$6,000) to the Cooperative we offered to match further villager contributions $ for $. They've now raised Nrs. 625,000 (AU$10,000), so we've got some catching up to do.
Anyone able to contribute, please skip to You-can-help.

Unfortunately Krishna's children have not been well in Kathmandu, but they do seem to be on the mend. Krishna will only be able to stay with them for a day or two before returning to Paudwar and Bhal Kharka.

Further Update - 19/4/10
Contributions to the Milk Productioin Cooperative have now reached Rs.625,500 (AUD 10,000) from just 86 households. As we've promised to meet contributions Rp for Rp, this presents us with a challenge of matching the enthusiastic support of the Nepali villagers. Work is progressing with fencing, grass planting and cow sheds and with design of the dairy.

Latest news from Nepal (posted 30/3/10)

In his most recent email, Krishna advised us of the registration of the Khayer Bahari Milk Production Cooperative Limited and the establishment of a bank account with 400,000 rupees contributed by local households.

Brianna's Book (posted 30/3/10)
Following her return from our visit to Paudwar in September 2009 our granddaughter Brianna (7) produced a book of her experiences. You can download it from here (Click "My trip to Nepal.pdf").

Acknowledgement to Yola (posted 30/3/10)
This is the first website I've created, and I do need to acknowledge Yola, a free website host that I stumbled across. While their offering does have its limitations (prescribed page styles, single level menus, lack of version control and others I could name), I have found these more than compensated by ease of site construction (I've not had to learn HTML!) and the level of support including help files, tutorials and email response to queries.